In spite of the Freedom From Religion Foundation's concerns, Dane County appears likely to approve the Catholic Church's management of a public-funded homeless center in Madison.
Dane County is working on a contract with Catholic Charities Inc. Diocese of Madison to provide a publicly paid and affiliated resource day center for the homeless. The charity has a vocal religious mission in its tax return stating that it "serves as a visible presence of the Catholic Church of the Diocese of Madison by providing services that effectively address the physical, emotional, and spiritual needs of individuals and families."
FFRF sent out a letter to the county opposing this contract in September. Unfortunately, the Dane County executive board has taken steps to further solidify this partnership.
Catholic ideology is officially at odds with reproductive and LGBTQ rights. The Wisconsin State Journal has described Catholic Charities as an "outreach arm of the Church." FFRF's extreme skepticism that the organization can remain true to church doctrine without discriminating against women seeking contraception and the LGBTQ community has been borne out by subsequent revelations, as can be seen in activist and former Alder Brenda Konkel's Facebook message below.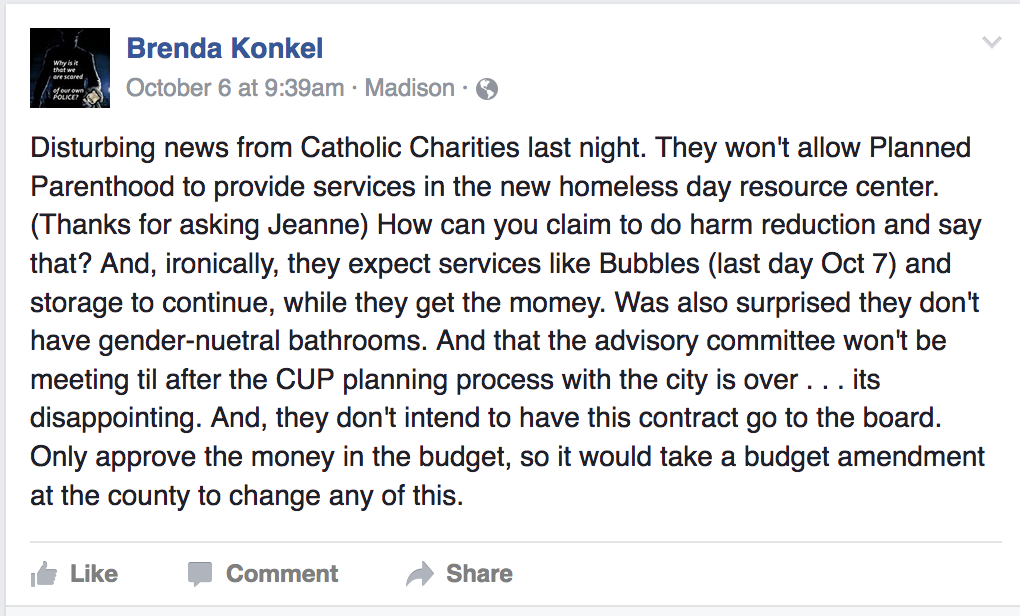 "The homeless come in all religious and nonreligious stripes, who, regardless of affiliation, are in desperate need of even-handed and secular facilities without fear of religious coercion or expectation of worship in order to utilize such services," FFRF Co-President Annie Laurie Gaylor wrote to Dane County Executive Joe Parisi last month. "Those of us taxpayers who are nonreligious, comprising 24 percent of the population, today outnumber rank and file Roman Catholics. Non-Catholic believers — Protestant, Jewish, Muslim, Wiccan, Hindu and others — are equally concerned with our tax dollars being used wisely and equitably to ameliorate conditions for the homeless in our county."
While it is admirable that Catholic Charities is working to address the needs of the community, it is unnecessary for county government to partner with a religious organization to fulfill the community's needs.
There is a Dane County Board meeting this Wednesday, Oct. 19, at 7:00 p.m. where public comment on the county budget will be allowed. Urge Dane County to partner with a secular organization or make new arrangements so that the county itself is providing programming and resources at the homeless center.
Contact:
Contact the Dane County Executive's office to oppose this partnership. Dane County Supervisor Heidi Wegleitner will be introducing a budget amendment that will seek to change the provider of the proposed homeless day center. Let your voice be heard in her support. Contact Dane County Executive Joe Parisi at This email address is being protected from spambots. You need JavaScript enabled to view it. or (608) 266-4114 and the Dane County Board of Supervisors at This email address is being protected from spambots. You need JavaScript enabled to view it. or (608) 266-4533 to let them know your disapproval of the pending contract.