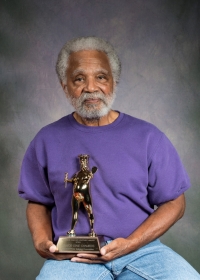 Nebraska politicians are attempting on Election Day to undo Sen. Ernie Chambers' good work in helping abolish the death penalty in the state. We must stop them.
Referendum 426 aims to bring back capital punishment in Nebraska, and it needs to be thwarted.
Last year, FFRF honored Chambers with its Emperor Has No Clothes Award, after Ernie achieved a nearly career-long goal: getting rid of the death penalty in Nebraska.
Following patient years of education, Ernie built a coalition of support in the Senate so strong that it was even able to overturn Gov. Pete Ricketts' veto.
The pushback was immediate. The governor started a petition drive to overturn the law by getting the issue on the ballot. Nebraska voters are being asked to determine whether or not Nebraska should reinstate the death penalty.
The wording of Referendum 426 is confusing. To ensure the death penalty stays abolished in your state, please vote "Retain." ("Repeal" repeals Ernie's law and brings back the death penalty.)
In one of two editorials against the death penalty, the Lincoln Journal Star presented a conservative argument against capital punishment. The death penalty, conservatives say, "is an extraordinary example of government overreach that costs inordinate amounts of money," violates "the sanctity of life," and "sometimes ... delivers erroneous results, and for years on end it delivers no results at all." A recent study found that the death penalty costs Nebraska taxpayers $14.6 million per year, even though the state has not had an execution in nearly 20 years.
Freethinkers historically were among the first to challenge the death penalty. While there are certainly divergent viewpoints in the secular community, the death penalty in the Western world has its roots in biblical law and influence: "And thine eye shall not pity; but life shall go for life, eye for eye, tooth for tooth, hand for hand, foot for foot (Deut. 19:21, among numerous passages mandating the death penalty).
The United States is in the top ten countries for executions, in the company of China, Iran, Saudi Arabia and Iraq. Two-thirds of nations around the world have abolished the death penalty. Help ensure that Nebraska joins almost 20 other states without a death penalty, so that Ernie Chambers' humanitarian lifetime achievement is upheld. It's not too late to use social media or letters to the editor to educate the public before the election.
Read the exact language as it appears on the ballot.
Lincoln Journal Star editorial against death penalty.