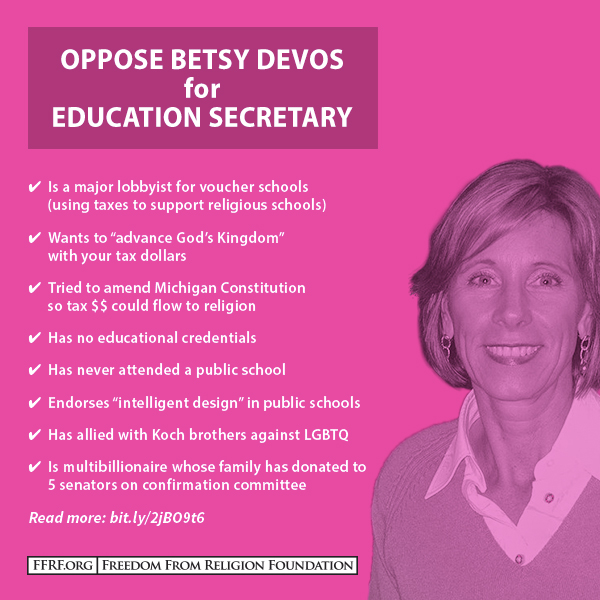 We need to pressure the U.S. Senate to vote against confirming Betsy DeVos as secretary of education.
There is a now a chance to defeat DeVos after news broke yesterday that Republican Sens. Susan Collins of Maine and Lisa Murkowski of Alaska will vote against DeVos on the Senate floor. Contact both your U.S. senators today and tell them to reject this unqualified candidate, especially if you have a GOP senator!
Take action immediately by contacting your U.S. senators to ask them to vote against DeVos, who would be disastrous to our nation's secular education. Please call and email if you can. Our automated contact system takes just a minute of your time!
Calls from constituents played a role in the two senators' vote flip against DeVos, so you can make a difference. If just one more Republican senator changes his or her vote to reject DeVos, she may not be confirmed as secretary of education.
DeVos would use tax money to fund vouchers for private, mostly religious, schools. She is a Christian evangelist who has said that she hopes to use education to "advance God's Kingdom."
Please call your senators NOW to stop DeVos and save our secular public schools!
CONTACT
Click here to directly phone your U.S. senators in a quick two-step automated procedure. This link will take you to the number to call for your senators. The phone number at the top of the page changes as you click on the name of each senator.
Click here to email your U.S. senators.
READ MORE
Please tell Senate to reject evangelization of public schools
2 GOP senators to vote against Betsy DeVos as Education Secretary
Two GOP senators to vote no on Betsy DeVos
REMEMBER
For maximum effectiveness, be succinct and polite in messages, and identify yourself as a constituent when relevant (not as a member of FFRF responding to this action alert). For obvious reasons, do not forward this action alert to the targeted officials. You may wish to send blind copies (using bcc: in your email) to FFRF at: This email address is being protected from spambots. You need JavaScript enabled to view it..