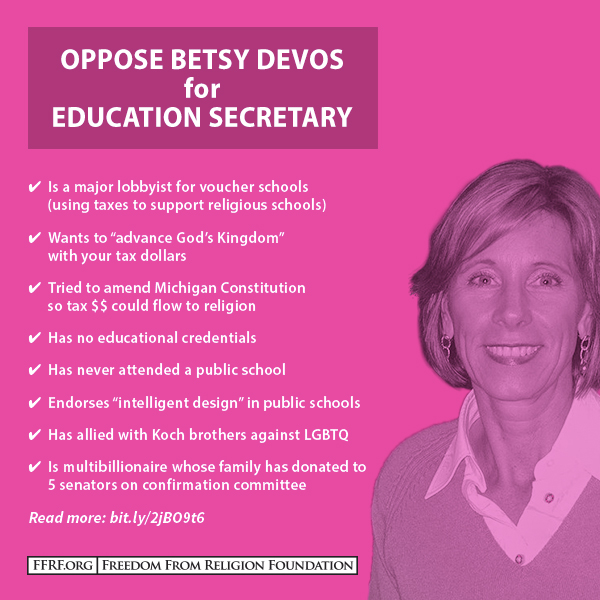 We need your help in pressuring the Republican U.S. senator from your state to reject Betsy DeVos for education secretary. We are asking specifically for your help in taking action because you live in a state with a GOP senator who is wavering about voting for DeVos.
Her confirmation is going to a vote early next week, most likely on Monday, Feb. 6. Currently, the Senate head count is split 50-50, meaning that Vice President Pence would break the tie. If just one Republican senator changes his or her vote, DeVos can be stopped. These are the senators that we need you to call and email asking them to vote to reject this unqualified candidate:
Deb Fischer, Nebraska
Rob Portman, Ohio
Dan Sullivan, Alaska
Dean Heller, Nevada
Thom Tillis, North Carolina
Please contact the listed senator from your state NOW. Calls from constituents are making a difference and have already persuaded two senators to change their votes and reject the cabinet pick.
DeVos would use tax money to fund vouchers for private, mostly religious, schools. She is a Christian evangelist who has said that she hopes to use education to "advance God's Kingdom." It has been reported that DeVos plagiarized quotes in her written answers to the Senate Committee on Health, Education, Labor and Pensions. It would be a disgrace for someone who either doesn't understand plagiarism, or doesn't care, to be in charge of our public schools. Already, she is sending students the wrong message about academic integrity.
Your senators will be home this weekend. In addition to contacting them through our automated system, find out if they are holding town halls or other events. If so, be sure to exercise democracy by showing up and making your voices heard! Ask your representatives questions and bring signs.
CONTACT
Click here to directly phone your Republican senator in a quick two-step automated procedure. This link will take you to the number to call. The phone number at the top of the page changes as you click on the name of each senator. We are asking you to target Republican senators.
Click here to email your senator.
READ MORE
Senate advances DeVos's nomination, setting her up for vote
FFRF news release: DeVos to use education department to advance God's kingdom
DeVos questionnaire appears to include passages from uncited sources