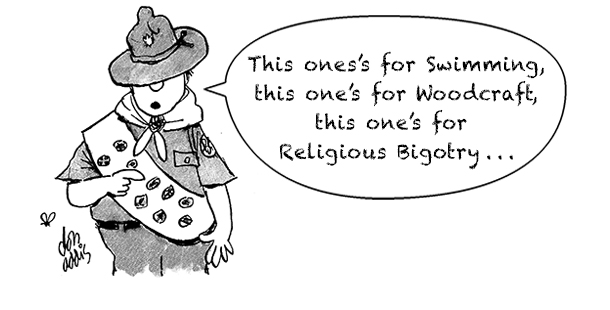 We congratulate Boy Scouts of America for lifting its hurtful bans, first against gay boys and now transgender children.
But there's an elephant in the room. And that is the Boy Scouts' continuing, absolutely deplorable refusal to budge over its outright ban against nonreligious children and nonreligious Scout leaders.
The media are failing to report, as they announce the policy change, that a broad segment of American boyhood is being told it is still unwelcome. Boy Scouts doesn't just discriminate against atheist or nonbelieving families and their children. It compounds injury by insult. Its official policy reads:
"The Boy Scouts of America maintain that no member can grow into the best kind of citizen without recognizing his obligation to God."
We know that no one can grow into the best kind of citizen who discriminates — including against the nonreligious. It's what you do — not what you believe — that makes you a good person and a good citizen. The Boy Scouts' vaunted "duty to God" has led it to cruelly place dogma above its duty to children. In a number of high-profile cases, the BSA has cruelly evicted little boys or young teenagers from nonreligious homes, even exemplary Eagle Scout Darrell Lambert, who after being a Scout for 10 years, was expelled at age 19 from his troop in Washington state because he is an atheist.
The intellectual rejection of claims for which there is no evidence is not only respectable, but vital to progress. What should not be respectable is treating any American, whether young or old, as a second-class citizen.
Today, local Boy Scout chapters may not necessarily enforce the ban, adopting a kind of "don't ask, don't tell" policy, but the national Boy Scouts of America remains obdurate.
Were Boy Scouts to bar Jewish, Muslim or Hindu boys, or engage in invidious racial discrimination, there would properly be an outcry. Why then does it remain only socially acceptable that a third of boys today who are nonreligious are still shunned by a club that claims "any boy may join"?
It's time for those of us "Nones" — today a quarter of the population in the United States — to demand that Boy Scouts stop discriminating against the nonreligious. And religious Americans should join us in condemning this cruel ban, which stigmatizes all nonreligious Americans.
FFRF proudly offers nonreligious Boy Scouts a badge, by the way.
CONTACT
Contact Boy Scouts of America through phone, Twitter, mail or email and ask it to do for the nonreligious what it has done for LGBTQ. Click here to send an automated email message to the chief scout executive and here to get BSA's phone number with quick talking points..
You can also use our automated system to tweet a message such as:
@boyscouts Congratulations for lifting hurtful LGBTQ bans. But now it's also time to repeal BSA's bigoted policy to shun and exclude the nonreligious.
If you prefer to send a written letter to the Boy Scouts of America, use this address:
Michael B. Surbaugh
Chief Scout Executive
PO Box 152079,
Irving, TX 75015-2079.