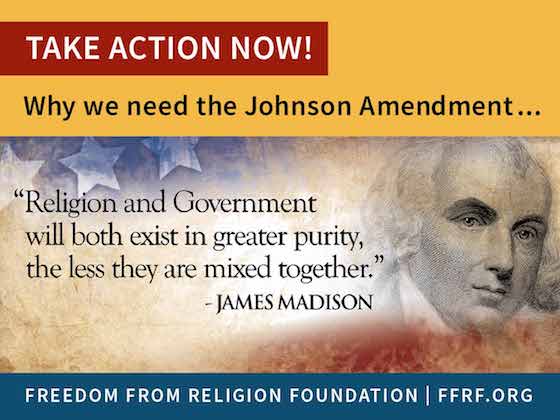 Please take a minute right now to contact your GOP lawmaker on the tax reform bill committee urging him or her to keep political dark money out of church coffers.

Your senator is one of the few lawmakers around the country who is deciding whether the tax reform bill will include a destructive repeal of the Johnson Amendment, which bans church electioneering. You need to act fast to help save this crucial bastion of the separation between state and church because negotiations on this bill are expected to end today.

Both chambers of Congress recently passed tax reform bills, and now they are deciding on a final version. Whether the final bill will include a repeal of the Johnson Amendment is a crucial point of contention right now.
Please contact your senator right now and urge him or her to leave the Johnson Amendment repeal out of the tax reform bill.
Click here to call your senator.
Click here to email your senator.
(Our simple automated system contacts your senator for you with a built-in script. The wording in the automated comment section is editable. We encourage you to add your own thoughts to personalize the message text, subject heading or signature.)